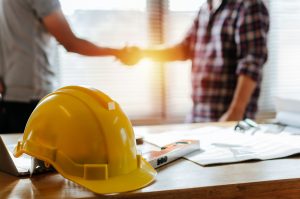 The construction industry is one of the fastest-growing in America, according to the Bureau of Labor Statistics. In fact, with a projected 4.5% growth over the next few years, it's surely a safe bet for anyone who can learn a skilled trade and be a team player. El Paso is no stranger to growth, with the city housing nearly 700,000 residents and climbing. However, we often hear people who aren't sure how exactly to get a job in the industry, even with so many available construction jobs in El Paso alone. Using this article, however, we can give you the tips you need to land a career in the construction industry and make a great living! 
A Breakdown Of The Different Industries
The construction industry is projected to see growth in pretty much all areas, but it's helpful to separate the types of construction and hone in on the specifics of each type of construction. 
Renewable Energy Construction
With the world attempting to make the switch to renewable energy in the wake of climate change, the rush to create more renewable energy is at an all-time high. As a result, the available jobs in the sector will continue to grow as humans adjust to the changing climates. 
Renewable energy will be more prevalent in all areas, from residential to commercial to even the military. Learning the science and needs of each type of renewable construction is key to landing a job in the field. Schooling in this type of construction is easy to find, and someone who already has construction experience could likely get the specific training they need from the employer itself. 
Residential Construction
Even though the U.S birthrate is decreasing, the need for residential housing will be a sure bet in the next few years. With millions of more Americans being born each year, it's guaranteed that new, efficient homes will need to be built to match the rise in population. 
Much like with renewable energy construction, this type of construction continues to change as the climate worsens. New regulations on the efficiency of homes are passed yearly, meaning skilled and adaptable construction workers will be needed in this field. EnergyStar construction standards are the most prevalent and are likely to get more stringent as time goes on. 
Commercial & Industrial Construction 
Anyone who's lived in El Paso for a while will know just how important commercial construction has been to the growth of the city. After all, the increase in population will inevitably come with new businesses and infrastructure to support it. Commercial construction can be more complex at times, but the training will be worth it when you have a steady job and good pay. 
It's important to note that there are many different subsets and types of construction within these three basic types. As you gain experience, you'll likely begin to form a specialty, which will make you more valuable and likely net you more money down the line. 
What Do I Need To Land A Job
Just as there are many different avenues of construction management you can work in, there are a ton of ways to get started in the field as well. One of the best ways to get experience and knowledge is to enroll in a trade school. Trade schools specialize in a specific trade, like welding, HVAC, or some other skill. Often, a one or two year course is enough to learn the basics and land a job. 
An apprenticeship is another excellent way to get the skills you need to become a full-fledged construction worker. Many skill-based jobs like construction or HVAC will actually pay for your training, meaning you can learn and make a living at the same time. Some apprentices can make close to $30,000 in their first year, and nearly $70,000 a decade later. 
Finally, if you'd like to have a more managerial or technical role in the construction industry, you could look into a college degree in construction management or construction technology. This route is certainly the most expensive but may offer the greatest amount of growth in the long-term. 
In fact, according to the Bureau of Labor Statistics, construction managers with at least an associate's degree made close to six figures in salary! Talk about a great return on investment! 
Let Job Connection Find Your Career
It can be pretty difficult to find the job you want, even if you know the field you'd like to work in. With construction, there are countless avenues, skills, and types of education you can use to find the job for you. At Job Connection, we specialize in helping you in every step of the process, from advice on how to prepare to crafting the perfect resume. If you're looking for the perfect job, Job Connection can help you find it. Give us a call today or visit our office to get started!